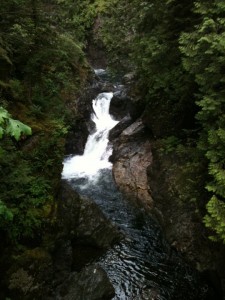 I made my 2nd hike of the season to Twin Falls outside of Northbend. The trail is very well maintained, 2.25 miles roundtrip with an elevation gain of 500.  It took me about an hour to hike.
The trail was very green and lush with the forbidding oploplanax horridus loitering near the trail.  The wildflowers were few (dicentra formosa, geum macrophyllum) and the salmon berries were still not ripe despite the salmon berry bird (Swainson's Thrush) singing all over the place.
A Dipper perched on one of the rocky outcrops of the falls and a Hairy Woodpecker played 'peek-a-boo' with me as I descended from the falls.